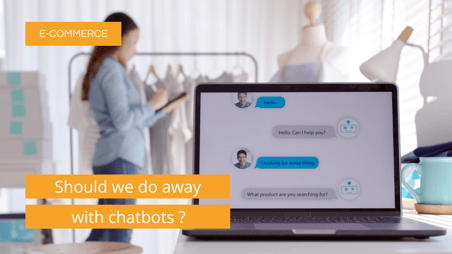 Did you know that the first chatbot was called Eliza and was created in 1966 by an MIT professor? Joseph Weizenbaum, already behind the first computer dedicated to banking, programmed a conversational agent simulating a conversation with a psychotherapist. Since this invention, chatbots have evolved thanks to advances in artificial intelligence to become real assistants. Increasingly efficient, they can now accomplish a precise task, propose solutions and adapted services, or deliver a pre-recorded response at the right time.
This innovation is revolutionising the company-customer relationship by considerably improving the customer experience, particularly on e-commerce sites. However, these virtual valets have their limits: too mechanical, challenging to create, not flexible enough, prone to bugs... So, should we do away with chatbots or give them a second chance?
Chatbot: the advantages and disadvantages of these virtual assistants
Chatbots are everywhere. On Facebook with Messenger, Microsoft with Cortana, Apple with Siri, and many e-commerce sites... They now have more than 3 billion users per month and leave no one indifferent; some praise their ability to interact while others find them limited.

1. The advantages of a chatbot in the company-customer relationship
For users, it is :
+ availability: at any time of the day or night, 24/7, the chatbot can be called upon. Programmed to be constantly available, it avoids user frustration by solving problems or offering services.

+ speed: the chatbot does not need to think long and hard to handle the user's request. It handles the request instantly, which helps boost customer engagement.

+ More autonomy: chatbots make navigation more fluid and facilitate access to company services. As a result, users feel better informed and more independent, finding a quick and easy solution without contacting an advisor.
For the company, it is :
Timesaving: by answering recurring questions immediately, the virtual assistant reduces the average processing time and frees up the support team's time to focus on other important issues. In addition, they limit the number of emails or phone calls received by companies.

Improving customer knowledge: chatbots can collect customer data to understand better behaviour, habits, needs, tastes, etc. These high-value elements enable the company to target its suggestions better and adapt its message.

The customer experience is at the centre of the strategy: available; the chatbot promotes customer satisfaction by responding quickly to their request.
2. The limits of virtual assistants
For users, it is :
Excessively mechanical exchanges: chatbots often provide too cold and emotionless answers. For users, this lacks human contact.

A linguistic limit: chatbots do not (yet?) can maintain a natural conversation, creating a gap between the bots and users who prefer to go to the shop.

Partial intelligence: chatbots cannot evolve in real-time and call upon their experience, know-how or intelligence to respond to users' needs or problems. This lack of adaptability can quickly give the impression that the chatbot does not understand or is overwhelmed by the situation.
For the company, it is :
The mobilisation of human resources: chatbots require particularly complex programming, which takes time and energy to give the impression of natural language and resolve queries. Not to mention the fact that the tool must be analysed regularly to ensure a satisfactory customer experience.

Constant maintenance: chatbots cannot integrate new information by themselves. Companies must regularly update their programs so that they can interact with new company products, new user needs or new questions.

Risks of error: a tone that does not please, a question that is misinterpreted, a spelling error... Chatbots are not immune to bugs! This can weaken the customer relationship and disappoint the user.
Chatlive and intelligent chatbot: what is it worth on e-commerce sites?
Customer relations by chatbot can be done in 2 ways: by livechat or by intelligent chatbot. These two tools - each with their advantages and disadvantages - are not competing and can be complementary to optimise the customer experience.
Chat or livechat, which means "real-time discussion", allows an advisor to interact in real-time with one or more users in the form of a conversation. This solution enables the company to receive fewer emails or phone calls; while avoiding certain negative aspects for users, such as the lack of human contact or the language limit. However, livechat is a very cumbersome system for advisors: instead of answering in 5 minutes orally in real-time, it takes 15 minutes in writing. A waste of time that can quickly cost the company a lot of money!
To save time and relieve advisors of time-consuming tasks, the intelligent chatbot aims to reproduce a natural language dialogue thanks to decision trees. In concrete terms, this means that a certain number of questions have been identified beforehand to be able to respond to users' needs, like an improved FAQ. What are the limitations of this solution? The field of possibilities remains limited, and there is a significant risk that the user will not get the desired answer. Not to mention that the larger the e-commerce site's catalogue, the heavier the decision trees will be to set up, requiring regular and tedious updating.
Improving customer relations: with or without a chatbot?
Imperfect, not always practical for the user, costly for the company... Is the chatbot a false good idea? Innovation and digital marketing in the age of big data have not said their last word!
1. The essence of customer relations: personalisation
First, some observations. The first is that every year, the amount of data companies must process doubles without their capacity to keep pace. The second is that with a conversion rate of barely 3% on an e-commerce site, compared with 55% in physical distribution, the ability to get to know visitors better and interact efficiently seems crucial. So how can we improve the relationship and provide advice on an e-commerce site without using a predictive chatbot model? By using a real-time personalisation tool like Netware! This is the only way to offer a thoroughly satisfying experience to the user and remediate the customer relationship.

2. A chatbot 4.0 for customer relations
Far from being a has-been, the chatbot has a bright future ahead of it if, and only if, it is connected to an artificial intelligence solution. Why? Because AI offers the possibility to measure the visitor's behaviour in real-time via inductive analysis, i.e., the study of contextual, psychological, and behavioural dimensions. This type of innovative solution, in addition to identifying what distinguishes one individual from another (as opposed to traditional marketing, which consists of looking for the common denominator between several thousand individuals), makes it possible to truly help the user at a given moment, even if their behaviour changes.
Read also: E-commerce: discover how real-time personalisation will help you sell more
Today's e-commerce sites must differentiate themselves from the competition and respond to consumer expectations by offering a tailored experience. Choosing a real-time personalisation solution like Netware means opting for more visits, personalised and relevant recommendations for users, and an increase in the satisfaction rate.
So don't wait any longer to boost your customer relations and, at the same time, your turnover,