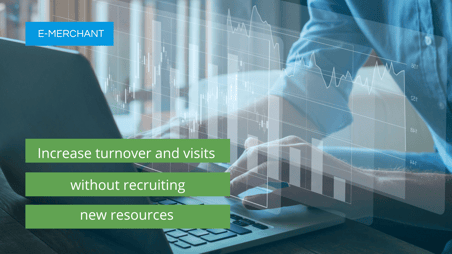 All directors, managers and executives are confronted with the same problem: how to develop their sales, find new customers and reach their objectives. For e-merchants who want to increase their turnover without recruiting new staff, all eyes are on the conversion rate, the average number of items per basket and the famous turnover per visit. What approach to adopt to stand out from the competition, how to re-mediatise customer relations, where to start to motivate and convince consumers... Discover our easy-to-implement and innovative solutions!
E-commerce websites: how to increase your turnover per visit?
Turnover is the lifeblood of any business, whether physical or online. For e-merchants, the turnover per visit is essential: it indicates the amount of revenue generated by an e-consumer. Although buyers remain faithful to online shopping, mainly via their smartphones, despite lifting restrictions following the Covid crisis, competition has become more challenging. So how can you stand out and increase your turnover per visit?
Optimise the customer journey
Firstly, by enhancing the purchasing experience and reassuring future buyers! Site ergonomics, optimised pages, updated contact information, improved customer reviews... These elements reassure and seduce the consumer during the purchasing process. Internet users must be able to navigate easily, fluidly, pleasantly, and quickly find the information they need.
But beyond this aspect of UX design, which is essential to increase the turnover per visit, other effective solutions can be implemented:
Offer free shipping for

purchases over a certain amount to encourage users to buy another product,

Cross-selling

by offering a complementary item to the one already in the basket or up-selling by redirecting the buyer to a similar, more expensive product,

Reduce shopping cart abandonment

by emailing the customer, reducing the delivery time, or creating a sense of urgency,

Optimise the payment tunnel

by communicating about the security of payments or by proposing various means to pay for purchases.



Choose a marketing personalisation strategy
To increase your turnover per visit, offering a quality experience is essential. In addition to the solutions mentioned above, what makes the difference is showing the visitor that you understand them by providing them with tailor-made advice.
But how can you offer content and suggestions adapted to the profile of Internet users? By implementing effective marketing personalisation! This makes it possible to respond to the expectations of the visitor according to his buying habits, his behaviour (the range of products he is interested in, the time he spends on the product sheets, etc.) and his psychological profile (is he hesitant or determined, focused on a product or volatile in his search, etc.). These three dimensions of marketing personalisation make it possible to offer products or content capable of seducing the visitor more easily at the right time! This ensures a tailor-made experience and intelligent personalisation, which helps to increase the conversion rate and, ultimately, the turnover per visit.
E-merchants, the importance of optimising human resources management
Most e-businesses mobilise many human resources. Indeed, it is necessary to combine a variety of solid skills, whether in marketing, communication, or business development, to make an e-merchant site work. Human resources are one of the most important items of expenditure.
Developer, data scientist, accountant, customer service, marketing... These jobs are still essential to the smooth running of e-commerce, and it seems impossible to do without them. Conversely, other tasks can be carried out internally without recruiting additional staff. This is the case for up-selling, cross-selling and consultancy sales, skills that aim to increase turnover per visit!
But let's take a concrete example to understand better: a large company is preparing to recruit 1,500 online salespeople to chat with site visitors, advise them and answer their questions. This strategy is far from optimal... Indeed, for salespeople, chatting online can quickly be time-consuming: solving a problem via an online discussion generally takes three times longer than an actual face-to-face exchange. And in terms of costs, this massive recruitment could amount to 3 million euros per month or 36 million euros per year! Wasted time and high costs... Therefore, increasing turnover without recruiting new resources is the dream of many entrepreneurs and e-commerce CEOs. Thanks to artificial intelligence, this is now possible with solutions like Netwave.
Increase turnover per visit without recruiting new resources thanks to Netwave's artificial intelligence
To be efficient and profitable and increase their turnover per visit, e-commerce sites can rely on an innovative technology developed by Netwave: a new generation of artificial intelligence technology. Where machine learning techniques require many occurrences and situations to learn, Netwave's Inductive AI - like the human brain - only needs one or two. Where machine learning techniques cannot generalise like the human brain, Netwave's AI is based on this.
Netwave is two agile technologies at the service of online commerce to boost sales:
Interpretation of weak signals to

identify expectations, obstacles, motivations, and the psychological profile of the visitor.

Inductive algorithms

generalise what worked best with visitors with the same profile as the user.
This solution's little (big) extra adapts to visitors in real-time It integrates 232 trackers that allow you to go even further in considering vistors' expectations, behaviour, and psychology. As a result, there is no need to recruit employees to chat online or launch cross-selling or up-selling campaigns! Thanks to personalised marketing suggestions that respond to needs, the visitor has access to the right product at the right time.
For e-merchants, Netwave is an excellent solution to increase the turnover per visit at a lower cost. Indeed, if we take the previous example of the company that wanted to recruit 1,500 people, the Netwave solution deployment would amount to less than 0.5% of the estimated cost. If any were needed, a compelling reason to take advantage of this innovative technology!
Do you want to increase your turnover per visit by automating and personalising the commercial animation of your e-commerce site or your marketplace? Contact us now!