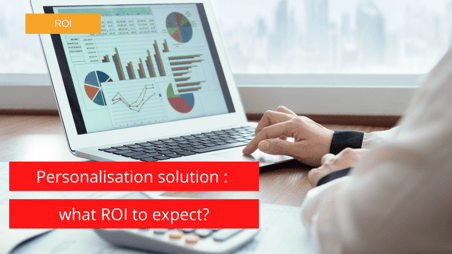 Adopting a personalisation solution on your e-commerce site can be very beneficial. Save time on your website's sales operations, give relevant advice to your visitors, increase customer satisfaction... The reasons for to launch are numerous. However, before investing, it's advisable to study the ROI of such a solution carefully. So, what return on investment can you expect? What gains can you expect from a personalisation solution? Answers.
Personalisation solution: direct benefits
One of the main gains expected from deploying a personalisation solution is increased revenue per visit. A study has shown that personalised experiences generate 3 times more revenue per visitor than non-personalised experiences. According to this study, they generate up to 6% more revenue! In fact :
The visitor finds what he came for on the site thanks to personalised recommendations. They buy.

The visitor discovers additional or complementary products that match their interests. They buy more.
Personalisation thus contributes to increasing the conversion rate and the average basket. Moreover, sending a personalised email can increase conversion by 33% (Gartner).
Did you know that? The average increase in sales per visit for all Netwave customers is 12%.
Personalisation solution: indirect benefits
To show how successful a project is, it's common to focus on the ROI. This indicator analyses monetary results and compares the investment cost with the financial gain generated. ROI, therefore, focuses on the direct results of a personalisation solution. However, there are also indirect results, which this indicator does not consider. Thus, the gains from adopting a personalisation solution should be assessed globally and include improvements that are not directly monetisable. These include:
Automation of e-commerce site's sales operations.

In addition to requiring fewer human resources, the animation of your site becomes more relevant. An adapted personalisation solution allows you to use the data precisely and exhaustively. The analysis is simplified, secure and much faster. You are therefore more efficient without having to recruit. Your teams are available to devote themselves to other tasks.




Improving the browsing and shopping experience.

By providing relevant and personalised advice to the visitor, the personalisation solution significantly enhances the customer experience. The visitor enjoys the shopping experience. They become loyal.

The shopping experience, pleasant and seamless, significantly impacts the visitor's intention to buy. Improvements such as optimising navigation and information flows can yield a return on investment of up to 83% (Ecoreuil). A personalisation solution optimises navigation and information flows by presenting the visitor directly with the object of interest!
Did you know that?
According to the Next in Personalisation report published in November 2021 by McKinsey & Company :
More than three-quarters of consumers (76%) said that receiving personalised communications was a key factor in making them consider a brand, and 78% said that personalised content does make them buy products.

Personalisation is particularly effective in building engagement and loyalty over time.
Real-time, for more gains
Almost all personalisation solutions available on the market work based on statistical models. The principle? Machine learning technologies link the visitor to a predefined segment and then apply pre-configured rules to offer products that have worked best with the other individuals in this segment. However, these personalisation solutions are based on a statistical truth and not on the individual reality of a specific visitor at a given moment. The recommendations made are therefore not personalised but averaged.
A real-time situation analysis is advisable for greater relevance, performance, and profit. The recommendation made by the personalisation solution is no longer based on the product that is statistically the most purchased but on the product most recently purchased by visitors in the same situation. In this way, the e-commerce site anticipates the needs of each visitor to offer them a truly individualised, tailor-made experience based on an understanding of their expectations. And not what is assumed. In addition to increasing the satisfaction rate, an intelligent, real-time personalisation strategy can significantly increase the conversion rate and the average basket.
Netwave, a real-time personalisation solution for an optimal ROI
Netwave's 3rd generation Artificial Intelligence technology provides individualised advice to each visitor to your e-commerce site. Netwave's personalisation solution reproduces the decision-making mechanisms of the human brain based on two technologies:
Real-time interpretation of weak three-dimensional signals

to identify visitor expectations and motivations.

Inductive algorithms

work in real-time to ensure maximum relevance for a personalised product recommendation.
Netwave identifies the visitor's situation in real-time. This situation is dynamically redefined with each data received. In short, Netwave technology allows you to push to the visitor what is selling the most at that given moment to the visitors who are most like them, thanks to an individualised situation analysis during navigation. This ensures that you know what your customers are looking for when they visit your site and that you can offer them a tailored service that maximises your chances of conversion in an average of 35 milliseconds. You will thus benefit from an optimal ROI:
On the website of a British food chain, Netwave's banners recorded a 55% increase in click-through rates against the UK's leading machine learning system.

Netwave's personalised banners outperformed a world-leading competitor using simple machine learning algorithms on one of France's top sites by +390% in revenue/visit.
Read also: Sparklers' success story
Discover how Sparklers increased its turnover/visit by 110% thanks to Netwave.
Do you want to deploy a real-time personalisation solution for optimal ROI? Request a Netwave demo today!